Introduction
"Geeks on Tour" aka "Odie's Roadies"; the Blog (journal) for Jim and Chris' life in their RV.
How to read the Blog
A Blog is a series of journal entries with the most recent one on top. As you scroll down you go back in time. When you reach the bottom, that is just the beginning of the current set of posts. There's lots more to read if you click on the 'Blog Archives' for previous months. Previous months also start with the most recent on top, so, if you want to start at the beginning of the month and read in chronological order - scroll down to the bottom and read the entries going up.
If you click on the title of a post, it will take you to the individual page for just that one post, then, at the bottom you'll see a link to 'Next' or 'Newer' post. Click on that and it's like turning the page, you'll get another individual post page. This way, you can read the blog like a book. You can start at the beginning (April 5, 2003), or any point in time, and just keep turning the pages. Don't attempt to read the whole thing in one sitting! As of April 5, 2007 there are 765 posts.
At first this was a 'personal' blog only. I used it like a journal, I wasn't even sure I would tell anyone it was there. Well, maybe just family and close friends. Then, I wrote a little about the work we were doing. Hmmm, is this a personal blog or a business blog? I finally decided that it's both. That is a great thing about our lives, we blend personal and business. We love what we do and we do what we love, and we write about all of it!
Background
If you're going to start reading the current blog entries, you could use the 'Cliff Notes' of what the story is about! I'm Chris. I'm the one who likes to write about my life. (I have journals and diaries going back to about 8 years old!) My husband is Jim. You'll see an ocassional entry in the weblog from him as well. Odie is the dog. You won't see any entries from him (he has his own blog :-), but rest assured he is always there behind the scenes. One of the reasons we like RVing is that your dog can come with you! And, he is so happy to be with us all the time. We are 'Odie's Roadies', we see it as our job to drive this little dog around the country.
We lived and worked and played (scuba diving mostly) in Fort Lauderdale, Florida for many years. Both Jim and I are computer consultants and we have our own business, Guld Systems, Inc. Jim helped small companies with all their network and hardware needs, I did custom programming using Microsoft Access. Jim's son, Devon, lived with us. We always had a 'someday' dream of becoming vagabonds in a motorhome. In the spring of 2003, Devon, at 19, moved in with a friend - clearing the way for us to pursue our dream if only we could figure out how to make a living while we roam the highways of America.
We figured that I could still do database programming and website development from anywere. All I need is an Internet connection. Jim's work involved physically 'touching' the computers. He hooked computers together, set up printers, made networks work etc. He had been doing a lot of wireless networking in client offices and homes. One day he had the idea, "I could set up wireless networks in RV Parks!"
That was it!
There was no turning back, within a couple months we bought an RV (from EBay!) and had the house up for sale. We contacted a local RV Park and asked if they were interested in wireless Internet (WiFi). They were, and we made arrangements to park our RV there for 6 months. Things didn't work out how we planned, but they actually worked out better. Jim was able to set up the wireless network for their office and the sites immediately surrounding the office, but he couldn't get the signal across the park to the other RV sites. The park managers found a company called Coach Connect who said they could set it all up for free - then they would collect fees from the RVers who used the system. We were skeptical. The Coach Connect installers arrived and, in one afternoon, installed 2 big antennas which sent the signals all around the park. It worked great! We were impressed.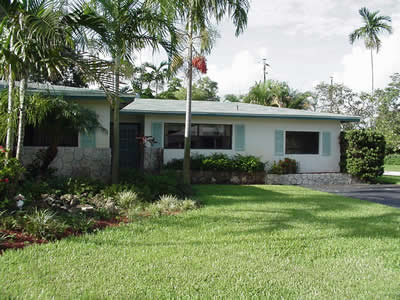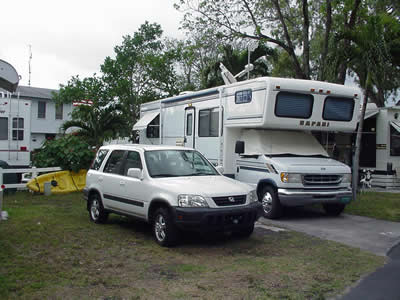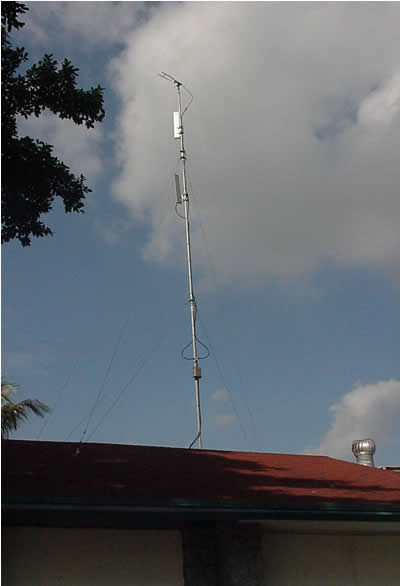 Jim started helping everyone who had any problems connecting and soon caught the attention of the folks at Coach Connect. So, instead of developing our own business for installing WiFi in RV parks, we represented Coach Connect.
In 2004, Jim handled all the tech support phone calls from Wi-Fi subscribers. We also gave presentations at RV Park trade shows. In 2005 we made a point to visit all Coach Connect parks around the country, offering staff and customer training, support, and troubleshooting. That kept us so busy that we couldn't do much of the travel we wanted. In 2006, we left the full-time work but still represented Coach Connect by giving seminars at big RV rallies like the FMCA.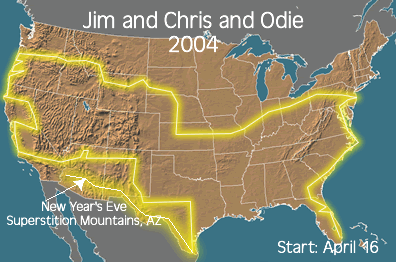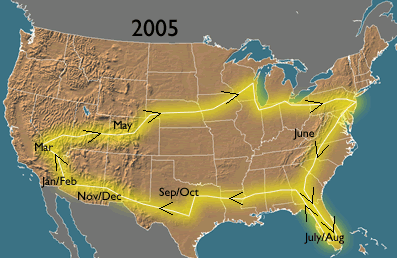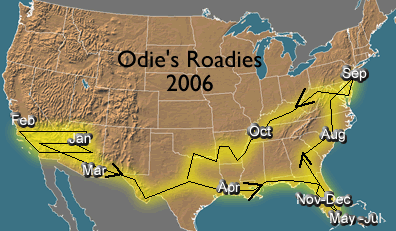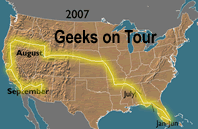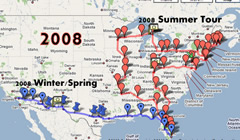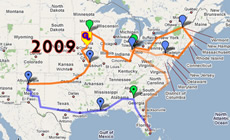 Seminars are what we really love doing the most. I am doing more and more website work. We have broadband Internet access everywhere we go because we invested in a Datastorm Satellite dish. Jim also became a Certified Dealer for Datastorm, and he now sells and installs the satellites for other RVers. We've developed our own business identity as 'Geeks on Tour: Computer Education for RVers'. Our 3 areas of focus are 1)Seminars at Rallies and RV parks, 2)Video tutorials online and on CDs, and 3)Datastorm satellite dish installations. We're still primarily dependent on our savings for paying the bills, but we're on the path to a self-sustaining lifestyle. We sure hope it works because we love living on the road!
OK, now you're armed to read the blog from any point you wish :-) You can send us an email if you have any questions.