Wednesday, March 24, 2004
And we're Off!
After nearly 2 months at Donna's Backyard RV Resort, it's time to move on again. We wanted to spend another week at Paradise Island RV Resort before we took off - say hi to folks and see how the Coach Connect Wi-Fi is going. So we hitched up the Honda to the Motorhome and drove away. Click on the link below to watch a tiny video:
Leaving Donnas.MPG
First Lesson in Towing
I took some detailed photos when Jim hooked up the car so you could see exactly what's involved. It's really not bad at all. Here you see all the component parts. You see
1. the big black (then why do they call it 'Blue' Ox?) of the tow bar
2. the big metal pins sticking out of the front of the car where the towbar hooks into
3. the red electrical cable which connects the coach electrical system to the car so the brake lights and turn signals work on the car
4. the black safety cable that connects the RV to the car as a backup system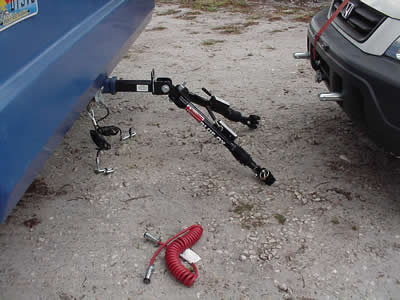 First you hook the towbar to the pins in the front of the car. You fasten them by running a pin through the lined-up holes in the middle.
Then you plug the electrical cable into both the RV and the Car.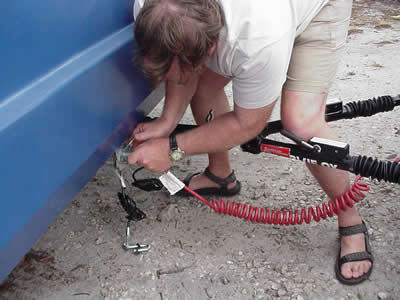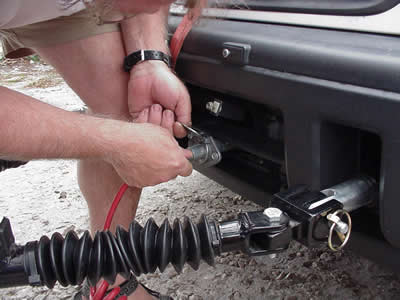 Now attach the safety cable to both the RV and the Car, and you're ready to go!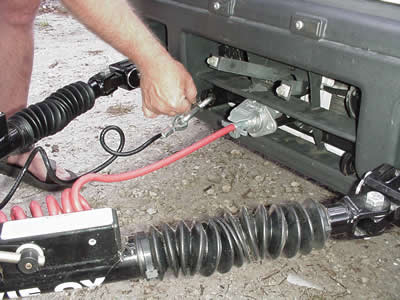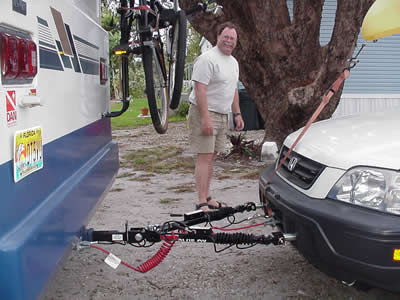 posted by Chris at 3/24/2004 02:53:00 PM
---