Friday, December 29, 2006
Google Earth
Jim did his Google Earth seminar yesterday and I'm starting to understand it enough to get hooked! Someone today came up and asked if you could use Google Earth to look at a river and see if it would be a good area to paddle. You know, no dams, no waterfalls, stuff like that.
What a good idea!
We are planning to paddle the Peace River this Sunday (our good friend, Marie, is coming to visit) and we want to do a little more distance than the last time.
Here is a
video recording - a 'screencast'
- of me using Google Earth to decide exactly where to paddle on the Peace River.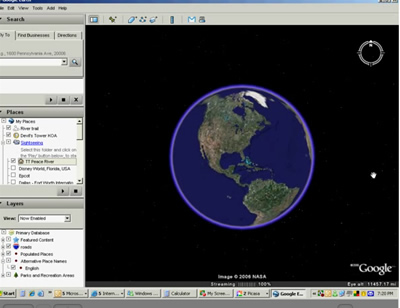 posted by Chris at 12/29/2006 06:08:00 PM
Links to this post:
3 Comments:
Great intro to Google Earth but mine looks different than your's.

I enjoy all of your tutorials, thanks for posting them.

Chris
10.4 miles??? That's almost Kayak Against Cancer distance there...ok ok, I'm game, can I fish along the way? Its saltwater right?

I'll give you a call about coming down in January...I have one other thing pending but apart from that I'd love to spend 2 or 3 days with you guys.

Happy New Year!!!!
Chris - I'm using the Beta 4 version. Maybe that's why mine looks different than yours.

Glenn - remember, we're going downriver - very little paddling required. That's my story anyway. I'll let you know how it goes.
---