Tuesday, December 19, 2006
The Park is filling up
With 60 degree nights and 80 degree days, it's sure easy to see why South Florida is a popular winter destination! I've been asked why I don't just say 'Florida' instead of 'South' Florida. This is a very long state. It actually gets quite cold in the northern half. Where we are is approximately latitude 27 which is the same as Corpus Christi, Texas or Chihuahua, Mexico.
Dad and Candy kept saying, "I've never seen so many big RVs!" Since we've stayed at resorts like
Palm Creek
with almost 2000 sites filled with big rigs, we hardly notice. There are 400 sites here at
Peace River
. You can see why it's a little overwhelming from the point of view of a little camper van though. We think this park is *just right*. It's big enough to have all the amenities, yet small enough to walk everywhere and have a wilderness campground feel to it.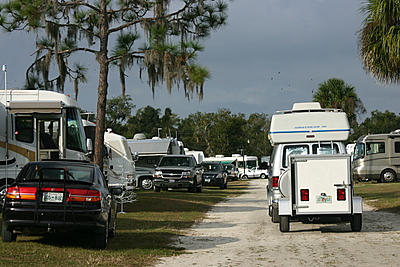 posted by Chris at 12/19/2006 10:27:00 AM
Links to this post:
0 Comments:
---