Tuesday, March 02, 2004
Donna's Backyard RV Park
As you can see, the maintenance crew is hard at work keeping "Donna's Backyard RV Park" clean and manicured! We give it a Five Star Plus rating. Hey! Do you need a license to drive that thing Donna?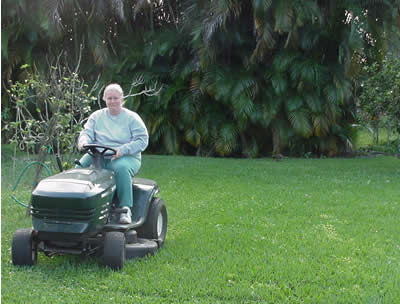 Any excuse for a picnic
We had to go to the dump station again today. Every 4 days is pretty standard. We pick Tuesday and Friday as good days of the week. Luckily, there is a county park (Markham Park) within 5 minutes of Donna's Backyard RV Park, so it's a quick and pleasant trip. Today, we decided to stay awhile and have lunch at the park. Then we took a shower and dumped again on our way out ... maybe we'll be able to stretch another day out of it this time. I wonder how long it takes for the novelty to wear off? I still feel like a kid on Christmas morning whenever we move our home somewhere and can do things like take a shower, in our own shower, while at a beautiful park. It's just the greatest gift you can give yourself. To live your dream. My dream has always been total freedom. There was a time that I thought that meant being alone ... no attachments to a person. Now, I'm experiencing how having a partner (who shares your dream) can enable you to make them come true. And, the sharing makes it that much better. Ok, you can say it ... 'aaawwwwwwww isn't that sweet?'
We are just having a great time. And we haven't even 'hit the road' yet!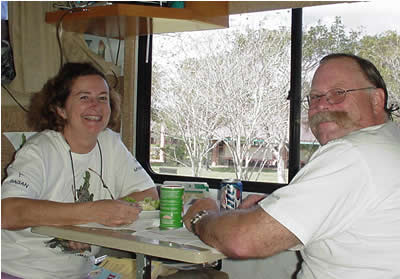 posted by Chris at 3/02/2004 07:27:00 PM
Links to this post:
0 Comments:
---