Saturday, April 24, 2004
Facts and Stats
Current Camp:
Elite Resorts at Salt Springs.
www.eliteresorts.com
Site Cost per night:
$14.50 w
Passport America
membership (plus tax)
# of nights at last camp:
3
Travel time:
2.5 hours
Travel Distance:
78 mi
Gas:
32.4 gallons @ 1.799/gal or $58.40
Temperatures:
65 at night 85 day
Home is where the Internet Is
I can't believe we're asking for campsites without trees! I love trees. And, look at this gorgeous campsite:
But, we can't lock on to the satellite for the Internet through all those trees. So, we found another site and moved. Hey, it's still pretty nice. And, the dish was raised and on signal in about 7 minutes.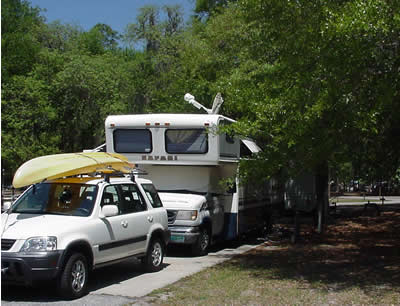 We don't have much cell phone signal here either, but I can live without phone better than I can live without Internet! I have online banking to do and I have lots of website development work to do. And, most of the people I 'talk' to are via email anyway. I'm content here for several days with Internet. Without it, we'd have to leave.
We took a tour of the park this morning in exchange for 2 nights free stay. Just like when you visit a timeshare place in Cancun, these folks give you a gift in hopes that you'll want to purchase a deeded campsite. I'm actually tempted. They tell of a park near the beach that sold lots for $25,000 3 years ago that are now going for $90,000! And, while you own it, you can let them rent it out for you. They take 30% for the service. During the tour, we learned that they plan to install high-speed Internet service, and they're open to receiving information from us on Coach Connect's plan.
Bye for now ... got work to do!
posted by Chris at 4/24/2004 01:03:00 PM
Links to this post:
0 Comments:
---