Saturday, April 17, 2004
First day of the rest of our life
Yep, we're living it now. This is our first day of living on the road and we're visiting our friends, Lynne and John, who have been 'full-timing' for 2 years now. They're staying at an RV park in Indian Harbor Beach and we just pulled up right next to them. We're right across the street from the beach, but we haven't made it there yet. We're just having too much fun hanging out ... talking ... looking at everything in their motorhome and talking about 'what's the best part about living on the road. I say it's the freedom, but then, I have to admit that I'm feeling a little insecure about having so much freedom. It's kinda like getting ready for a performance, or looking down the ski slope when you're at the top. You're scared and thinking, I'm not sure if I can do this. But, it's what you want to do more than anything. So nice to start out with friends who know.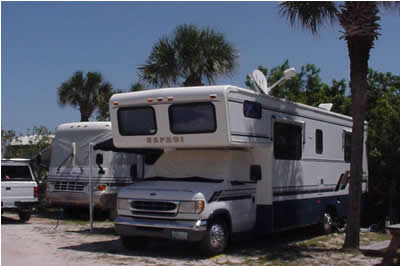 I wish they wouldn't try to fatten us up though! Breakfast of waffles, maple sausage and eggs!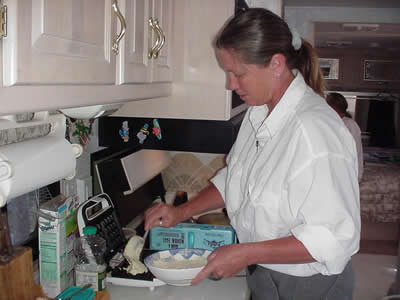 And, they're happy to be able to share our Internet connection. The dish worked flawlessly, and within 10 minutes Jim had their computer connected wirelessly and Jim was showing them how to look at the Datastorm map and see exactly where we are. Check it out the
Datastorm Users Map
, we are #787.
I've actually had a few people complain that we went 6 days without a post here on the Weblog. So nice to know you care!! We were very busy with a 'last supper' almost every night. If we stayed any longer, some people might complain that we were just trying to get free dinners. It was very nice - even my Mom (who never cooks) made dinner and had a few people over. And, Chris and Richard invited me, Jim and Mom over to their house for dinner.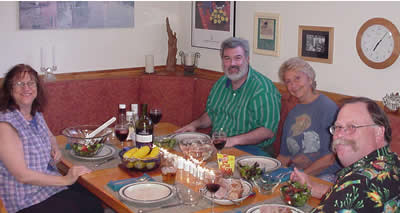 Then there was Easter. Jim's sister Debbie and her husband Bob can be counted on for beautiful spreads on family holidays and this Easter was no exception. I had an extra bonus though, because they used my Grandmother's plates for the placesettings. When we sold the house and cleared everything out I was very happy to find a home for my grandmother's plates with Debbie and Bob. Now I can visit them occassionally!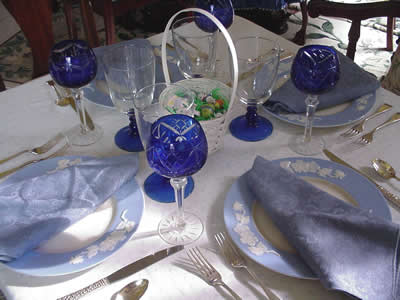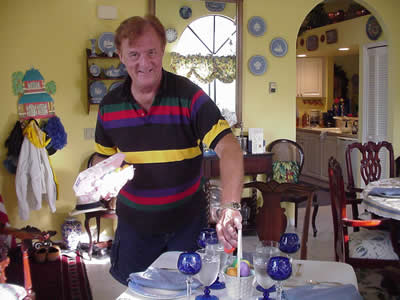 posted by Chris at 4/17/2004 02:56:00 PM
---