Saturday, April 10, 2004
KAYAK DIVING!!!
I am SOOO happy. I got to go kayak diving today. I haven't been since October. It's been too cold and windy most all winter for me. Jim has gone several times, but I always wimped out. Besides, my kayak had a hole in it! And, I was going to be so disappointed if we left South Florida without going kayak diving again. Today was a gorgeous, perfect day - 85 degrees and FLAT calm ocean. That's 'My Ocean'. And - Thank You Geri - for loaning me your kayak.
Here we are at our standard parking place right on A1A near Birch State Park, and Jim is taking the kayaks off the roof rack.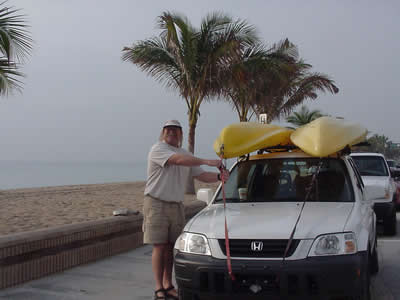 I'm ready to go. Just look at that flat, calm, clear ocean!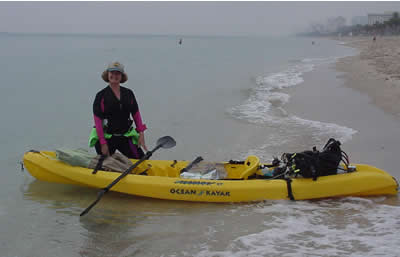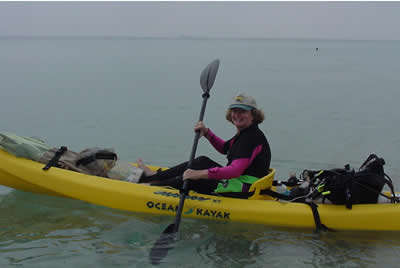 Whenever I talk to a new person about kayak diving, they always ask for details about how you get in the water off the kayak and then how you get back in. No matter how much I try to explain, I can tell they're having trouble visualizing it. So, today, I took the camera out with us (in a tightly sealed dry bag) so we could take a couple little videos. Just click on the links below to watch them. Be patient, it might take a while for them to download.
Click here for video of Jim starting his dive off the kayak
Click here for video of Chris getting back on kayak after the dive.
Click here to see video of Chris pulling tank back into the kayak.MPG
Here's Jim paddling back in to shore after a great dive. It was a little chilly - 75 degrees - but the visibility was pretty good - about 60 feet, and it was just wonderful to be back in the water. We are going to miss this. There aren't many places in the world where the reefs are close enough to shore like in Fort Lauderdale.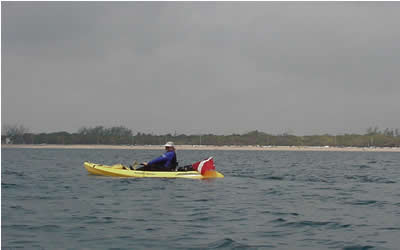 And here's Chris paddling back to shore.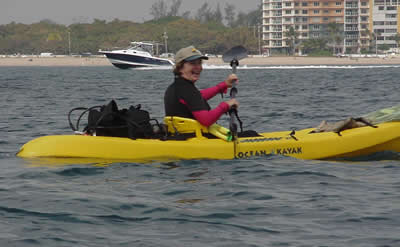 Click here for video of Jim Paddling back to shore
When we get back to shore, here's how Jim carries the kayaks back to the car.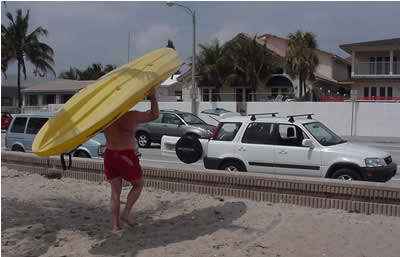 Gratitude
We're feeling a little sad about leaving this beautiful place with so many friends. Jim and I talked about it while sitting on the beach wall looking out at the ocean drinking our 'apres plongee' beer. Yes, it feels sad to say goodbye to all that we have enjoyed for our last 11 years together here in South Florida. But, we also couldn't be more excited about the journey ahead. We decided what we were really feeling was gratitude. Gratitude for our supportive family here, gratitude for all our friends, and gratitude for the wonderful activities we share. Gratitude for what we have, and excitement for what lies ahead. It just doesn't get any better than that!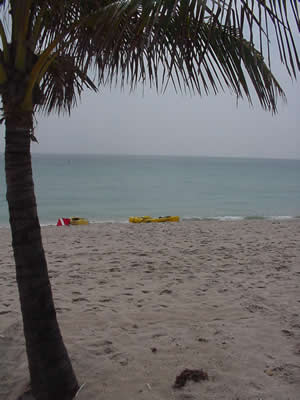 posted by Chris at 4/10/2004 03:34:00 PM
---