Sunday, April 25, 2004
Lynne and John just left ... such a let down to see them go. The four of us have SO much fun together, it is really quite remarkable. We have no idea when we'll see each other again, but I'm sure we will. They'll be staying in the Melbourne area for at least 6 months because they have a job there. We'll be heading up to New Jersey next, then across to Kansas and probably out to the west coast before returning to Florida.
Partying isn't the only thing we do, though. I set them up with their own
website
, email and weblog. In return, Lynne did a great job of covering the mattress in our 'loft'. It was the only place in our motorhome that I thought was a little ratty. Not anymore!
So, last week, while we visited them in Melbourne, we went to a fabric store and picked out the fabric to cover the mattress. This weekend, they traveled to Ocala National Forest to visit us and finish it. Here's Lynne sewing the covers while sitting at the picnic table outside their motorhome: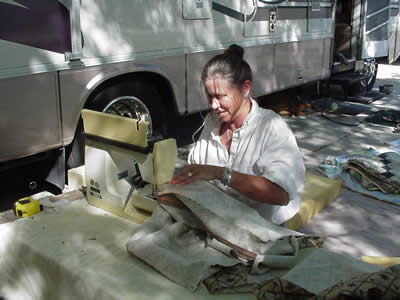 And here she is stuffing the foam into the finished cover, inside her motorhome: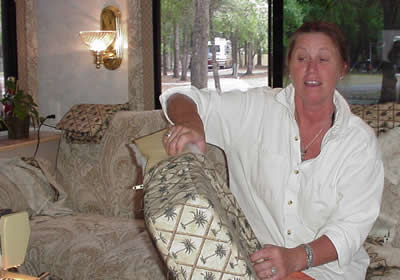 And, here's the finished product: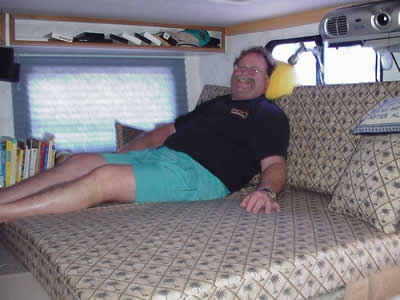 It was Jim's idea to cut the mattress into pieces so that it would give us a back to lean against when we use the space for reading or watching TV. Then, just put the pieces back down to make a full mattress when we use it as a 'guest room'. Brilliant!
posted by Chris at 4/25/2004 02:07:00 PM
Links to this post:
0 Comments:
---