Wednesday, April 21, 2004
Trouble with Datastorm
We pulled in to my Dad's driveway about 5 o'clock last night. After our first vodka and orange juice admiring the view, I wanted to put the satellite dish up and get on the Internet to post to this Blog! We proudly said, come look at this. It's like a blue moon rising. It rose just fine, but it never locked on to the satellite. We know that trees are a problem but there are no trees directly overhead or even very close by. Can it be that the trees 2 doors down are blocking just that particular spot? Or is there something wrong with our system?
Well, the beauty of blogging is that all you need is an Internet connection on any computer, so I'm using my Dad's computer to make this post. Jim was going to write a little about our drive yesterday as we stopped at a couple RV parks that are candidates for Wi-Fi. Hopefully, he still will, even if it's out of sequence.
Right now he's washing the motorhome, and doing an especially good job of cleaning the roof with my Dad's pressure cleaner.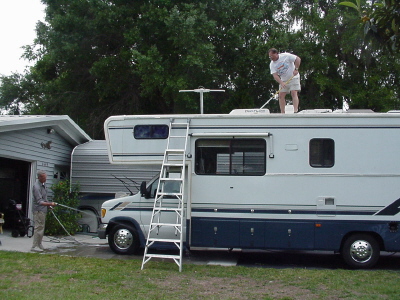 Facts and Stats
Current Campground/RV Park:
Tom and Candy's RV resort and Fish Camp! Dunnellon, Florida.
Site Cost per night:
$0 !
Miles from last park:
203
Travel time:
6 hours with a stop for lunch at a rest area and a couple stops at RV parks
Gas:
Fill 'er Up, 34 gallons @ 1.76 or $60.
posted by Chris at 4/21/2004 10:31:00 AM
Links to this post:
0 Comments:
---