Tuesday, May 11, 2004
Electricity
The national park campground where we are staying at the moment does not offer any hookups. So, if we want electricity for computers, we have to run the generator. It's kinda noisy, but not as bad as I thought it would be. Luckily, there is no one camped very near us so we don't have to feel guilty about making noise for them. There is also a little bit of gas fumes. Jim learned that opening the door to the generator compartment helps. One of these days we'll get the full scoop from
George
on how to set up solar panels, batteries and inverters to give us power without running the generator.
Meanwhile, we did stay at the same park yesterday and got 6 hours on the computer before we decided we'd had enough of the generator. We actually have decent cell phone signal here too, so Jim was able to handle a couple Wi-Fi support calls, and I spoke to a new MS Access programming client.
We also used the beautiful day sitting in one spot to do some cleaning. Here's Jim cleaning out the 'junk' drawer:
Then, we went into town (Ocracoke Village) for sunset. It's an extremely picturesque little town. Here we are lounging in a little park beside the marina: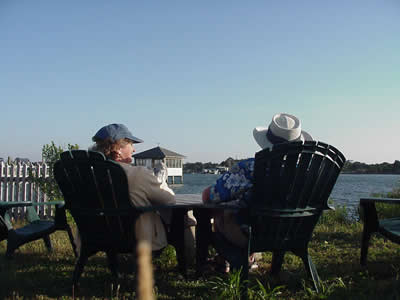 Here's the
Ocracoke lighthouse
- the oldest operating lighthouse in North Carolina. Very pretty: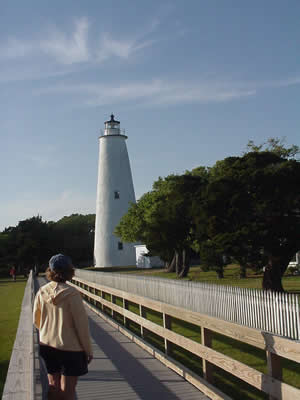 Today we're off to climb the
Cape Hatteras Lighthouse
which is THE tallest lighthouse in the country. Then we'll be looking for a campground - hopefully with electricity.
Before I sign off, I just have to share a quote. I subscribe to daily 'Heart' quotes from
Heartmath
. I thought this one that came in my email today was so appropriate!
"It takes a lot of courage to release the familiar and seemingly secure, to
embrace the new. But there is no real security in what is no longer
meaningful. There is more security in the adventurous and exciting, for in
movement there is life, and in change there is power."
-- Alan Cohen
posted by Chris at 5/11/2004 07:31:00 AM
Links to this post:
0 Comments:
---