Saturday, May 08, 2004
Friday - a missing day
We decided to stay at a KOA, because the ad in the
Trailer Life Directory
said 'Complimentary High Speed Internet'. We wanted to know what they meant. I assumed it meant Wi-Fi to the campsites. Wrong. It just meant that there was an ethernet connection in the rec room rather than just a phone line hookup. Oh well, we have our satellite right? Well, there were a couple trees in just the right spot to block the dish's view. But, after 25 minutes of searching the sky, our datastorm dish found the satellite. Cool. For a while. Then it lost connection again - of course I hadn't posted to this weblog yet. Oh well. It was a nice park. Who says this isn't camping!?!?!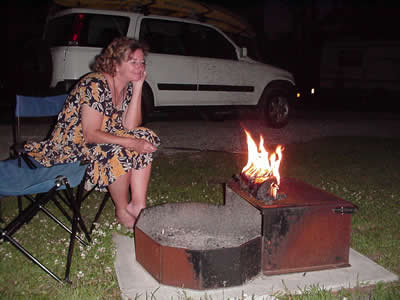 And, I like this shot of Odie with the sunset light coming thru the blinds: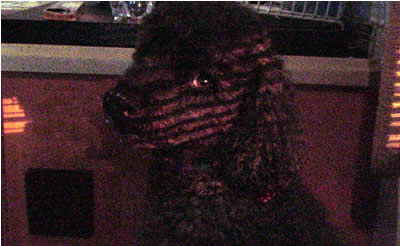 Facts and Stats:
Current Park:
Wilmington KOA, www.wilmingtonkoa.com
Site cost per night:
$38
Nights at last camp:
1
Travel time:
3 hours
Miles:
148
Weeks since we left Ft. Lauderdale:
3
Total Miles:
1215
Total gas cost:
$263.68
Total campsite rent:
$278
Total RV maintenance costs:
$120
Saturday - Wilmington to Emerald Isle
Today we had a leisurely morning, taking advantage of a good cell phone signal and free weekend airtime to catch up with some friends over the phone. I did the laundry and Jim took his laptop to the rec room and plugged into the ethernet since our satellite dish still wasn't connecting. We got underway about 11. Our route up the coast of N. Carolina took us right thru Camp Lejeune, the home of five major Marine Corps commands and one Navy command. As the road entered the property there was a gate house and we were asked to pull over so a marine could inspect our motorhome. We thought they were kidding! Apparently they don't joke about this. The young man was very nice and only came inside the motorhome for a few minutes. I thought about taking his photo, but thought better of it! Now here's a road sign you don't see very often: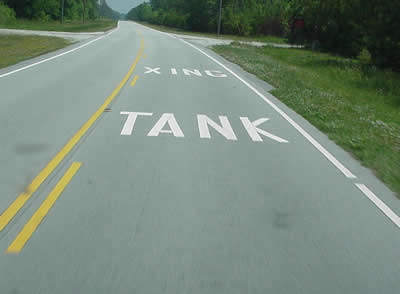 We try to be very thorough in hunting for parks to stay in. First factor is a park that would be a good candidate for Wi-Fi. Second factor is a park where we would like to spend some time. When we saw a Holiday Trav-L-Park, we thought we were looking at a park in the organization that we gave the Wi-Fi seminar to in Orlando. So, even tho it was the most expensive prices we had seen yet, it is prime Wi-Fi material so we headed there. well ... no ... the organization we gave the seminar to was BEST Holiday Trav-L-Park. geeez, talk about confusing. So here we are paying $45/night! Oh well, this park would be perfect for Wi-Fi too. We'll leave them some info. Meanwhile we enjoyed a very nice walk on the beach. A beach where dogs are allowed. Cool.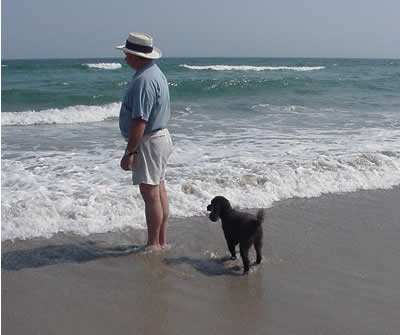 And, Jim figured out the problem with our satellite dish. It probably wasn't the trees at all. Our current site has NO trees. The dish locked on to the satellite right away, but we still didn't have communication with our Internet Service Provider. Jim made a couple calls and found that, unknown to us, the part of our equipment called the 4020 needs to be reprogrammed for latitude and longitude every couple hundred miles. It's an easy enough thing to do, the great folks on the Datastorm User Group have created a program to easily handle it. But the catch-22 is that we need internet access to get that program! So, Jim hooked up his laptop to the cell phone and dialed into the Internet to get the program, ran it, and reset the satellite dish. Voila! We're back online. And we've learned a valuable lesson.
Facts and Stats:
Current Park:
Holiday Trav-L-Park Resort, Emerald Isle, NC www.htpresort.com
Site cost per night:
$45
Nights at last camp:
1
Travel time:
2 hours
Miles:
68
Weather:
Sunny and Gorgeous - 78 degrees
posted by Chris at 5/08/2004 07:25:00 PM
Links to this post:
0 Comments:
---