Sunday, May 02, 2004
It's been a quiet day in Tifton, Georgia ...
We're staying another night at Amy's RV park in Tifton so we can check the Post Office General Delivery on Monday - hoping that our mail has arrived. It's been raining on and off all day. Very peaceful. Jim spent some time with the owner of the park reviewing his Wi-Fi setup. I sat at the computer all day doing some web work and learning new stuff. We used the breaks in the rain to take Odie for a couple walks. Jim went to the store to pick up a few items and was chastised severely when he got to the checkout stand with wine in his cart! The clerk couldn't fathom the debauchery of a man wanting to buy wine on a Sunday! We're accustomed to not being able to purchase alcoholic beverages on Sunday morning because that is the law in Florida. Apparently, in Georgia, one must abstain for the entire day. Learn something new every day.
We should be taking off tomorrow and we're looking at changing our plans and skipping the Vidalia Onion Festival. If we take a road just little north of Vidalia we can cruise the
'Antebellum Trail'
. This is a stretch of old south plantations that were spared in the Civil War when Shermans' march thru Georgia. Looks cool.
Yesterday we ventured into town to see a
festival
. It was pretty impressive, especially the music. The
Lucky Four
band was a really good country/rock band and some really young kids playing and singing.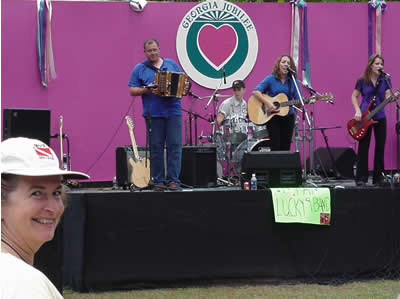 Then, at the second stage there was
Irish music and dancing
. I said, "That's about the last thing I'd expect here", and Jim reminded me that when we traveled to Ireland a few years ago, we made the connection that a lot of American heritage came from Ireland. Especially bluegrass/southern mountain music and dancing. Look at Clogging and Irish Step dancing and you can see the common ancestry.
posted by Chris at 5/02/2004 04:49:00 PM
Links to this post:
0 Comments:
---