Monday, May 03, 2004
"Live for the journey, not the Destination"
Well, we're still in Tifton, Georgia. Not the most exciting of resorts, but very nice. Our mail has not arrived and we decided to give it one more day before telling General Delivery to forward to another town, and moving on. Both Jim and I are really good at 'chillin'. All our contacts are here with us through the Internet. So, as much as we like traveling and seeing the sights, we also like just hanging out and enjoying our current location.
Can you tell us apart? I certainly hope so, but we're having some trouble. We spend every day, all 24 hours, together. Not only do we finish each other's sentences, we can finish sentences that weren't even started! Remember the bottle of wine that Jim was unable to purchase yesterday? Well, I went to the store today -- Yes, I actually ventured out on my own! -- I bought a bottle of wine that has been on my forbidden list for many years. I picketed for the farmworkers in the 70's. Gallo winery was a major 'no-no' for their abuse of farmworkers' rights. Well, that was 25 years ago, and Gallo had the right size bottle, in the right color, for the right price, on the shelf today - so I bought it. Jim just about fell over when I got home. He said, "That's the same bottle of wine I had in the cart yesterday, and I was wondering if you'd pick the same one, even though it's not a brand we've ever bought before."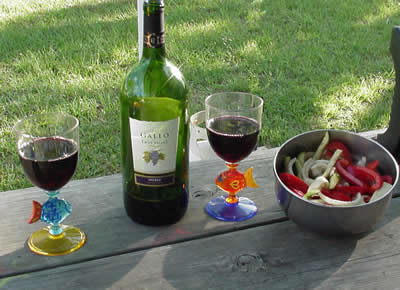 The simple things, like a delicious dinner eaten in view of a spectacular sunset, are what count in this life. I thought that Vidalia onions were those white ones. No, they look like normal yellow onions, but they're a little bigger. Anyway, we had one of our favorite dinners - barbecued pork loin roast with grilled veggies. The veggies were Vidalia Onions (of course) and zucchini, and red bell pepper. YUM!!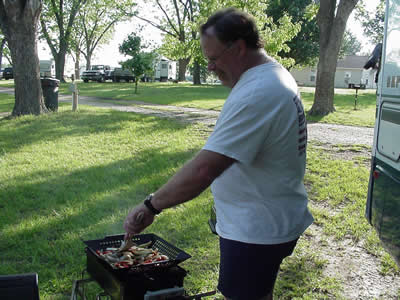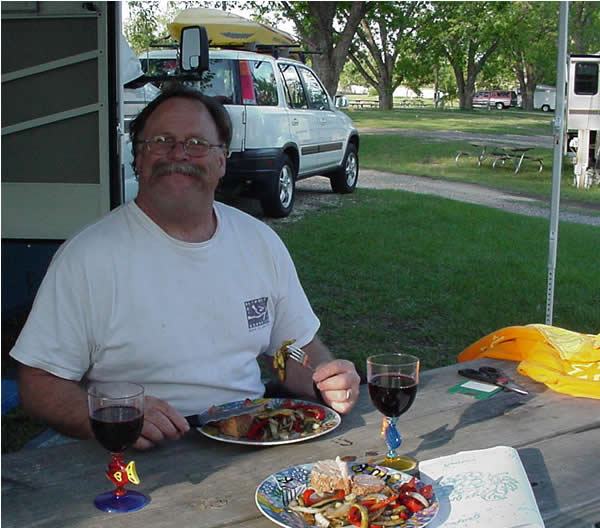 posted by Chris at 5/03/2004 08:02:00 PM
Links to this post:
0 Comments:
---