Tuesday, May 04, 2004
Oh Boy!
Did we find a nice place to stay or what?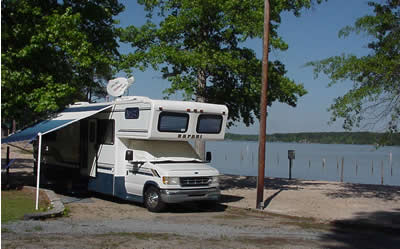 I drove today. It was really no problem. I have driven the motorhome several times before, but not since we've been towing a car. Jim really likes driving it - so I am just the 'relief' driver. Since we've only been driving 2-3 hours a day, there's really been no need for relief. So, I figured I needed to drive just to keep in practice. Jim was the navigator today. He has a program called Mappoint on his laptop. And, he has a GPS attachment that turns our rig into a little car icon on the screen and it moves along the road. We know exactly where we are at every moment! It was Mappoint that found this campground in the first place - it has a database of 'places nearby' that includes campgrounds. Then, it was Mappoint that showed us exactly how to get here. Pretty cool.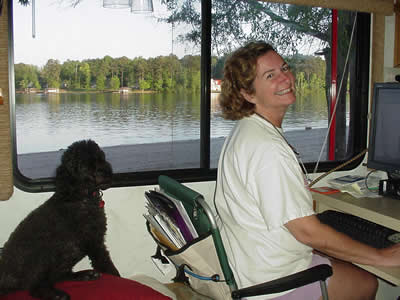 Once again, we don't have much in the way of cell phone signal. But, the Datastorm satellite dish locked on like a charm, so Internet, Web-browsing, Email is no problem at all.
Facts and Stats
Current park:
Oconee Springs Park, Eatonton, Georgia, 706-485-8423
Site cost per night:
$15
# nights at last park:
4
Travel time:
4 hours
Miles:
156
Gas:
43.7 gallons @ $1.689 or $74 avg mpg: 7.2
There's a full moon rising over the lake right outside our window and the reflection on the water is reaching all the way to the beach. I tried to take a picture, but it's just a white dot in a black screen. So, you'll have to take my word that its an inspirational sight!
One more photo of this great site: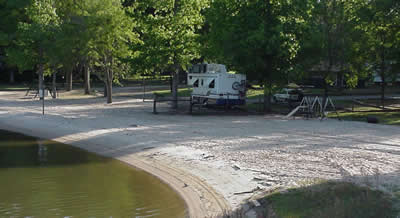 posted by Chris at 5/04/2004 09:09:00 PM
---