Thursday, May 27, 2004
A Travel Day
Yesterday we drove the motorhome down to Ocean View to visit an RV park who is interested in
Coach Connect
's Wi-Fi services. It's a beautiful hour and a half ride down the Garden State Parkway. It felt good to be on the road, even if just for one night. Actually, especially just for one night! We so enjoy our spot at Jimmy's "Sea Lyon Beach". Anyway, the park we visited is
Ocean View Resort
. There's no way they have an Ocean View .. but they are in the town of Ocean View. It's a very forested place actually: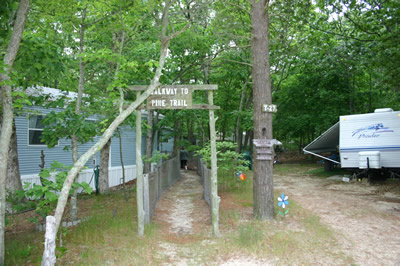 And, you know what 'forested campsite' means right? No satellite Internet. Oh well, it's good to take a night off from the computer once in a while. You might notice that the dish is up, but, it never did find the satellite.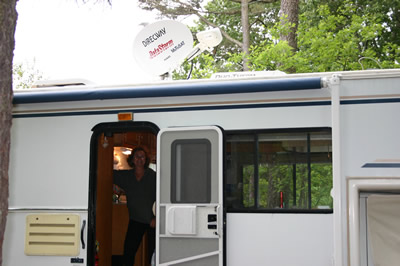 Jim had a great meeting with the manager of the park as they discussed the proposal for installing 17 antennas to distribute the Wi-Fi. That's the most antennas we've heard of, but I even wonder if 17 will be enough - they have over 1100 sites - and all those trees.
On our way back today, we stopped at a grocery store. What's great about living in a motorhome - you don't have to wait till after you drive home from the store to have your lunch! If you look closely, you can see Jim in the window eating a sandwich. Home IS where we park it!
We took the scenic drive back, along highway 9. What a gorgeous area! The lush woods and the old Victorian homes. And we went thru a town where Jim knew he had relatives who owned a business called Miami-Somers. We spotted it and stopped. Jim went in and found Cousin Rick:
Once we got back, parked, and checked our email, we decided it was about time we drove up to the north end of Long Beach Island to see
Barnegat Lighthouse
.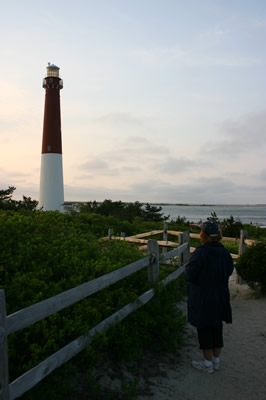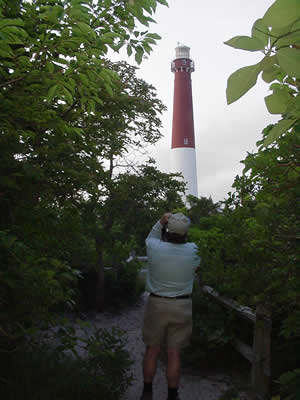 The end of another beautiful day ... g'night.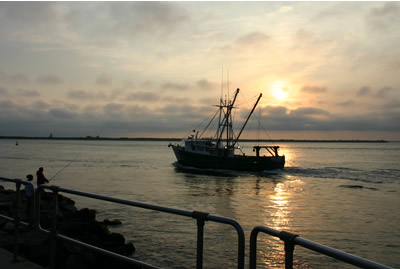 posted by Chris at 5/27/2004 09:09:00 PM
Links to this post:
0 Comments:
---