Thursday, May 06, 2004
Travelin'
We planned a longer travel day today than usual ... about 4 hours of driving. So, we got an early start (for us) ... left at 9:30. First Jim checked the tire pressure and added a little air using a scuba tank. He has a special air chuck attachment for the tank: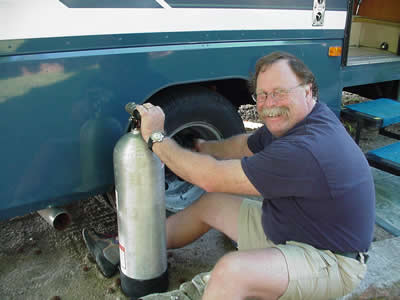 Even with the best maps and GPS' we still end up on a wrong road once in a while. Er ... no ... I mean, look at this beautiful scenic dirt road we took today:
Then, just about an hour into our longest stretch on an interstate so far, we both jumped as we hear a tha-lump-slap coming from the rear. We both lookrd in the side view mirrors hoping NOT to see a little white Honda finding it's freedom. Nope, Honda is fine. We did see one of those big, black snakelike objects in the road behind us. The tread from one of our rear tires had come off. Jim immediately pulled over onto the shoulder and got out to take a look. It was the inner tire of the left rear dual wheels that lost it's tread. We figured we could drive to the next exit and then call our
Good Sam Emergency Road Service
. They got there within an hour and had a replacement tire for us. $120 out of our pocket and 2 hours out of our day, and we were on our way. The $120 was for the new tire. There was no charge for the service call - covered by our Good Sam ERS membership.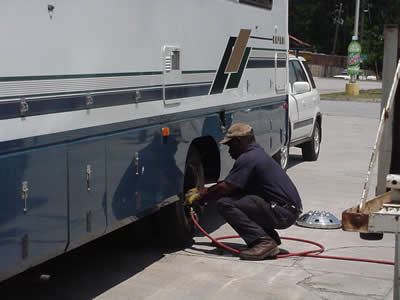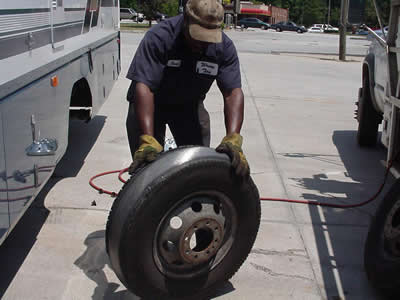 Facts and Stats:
Current park:
Swamp Fox Campground, Florence, South Carolina www.swamp-fox-campground.com
Site cost per night:
$12 (half price due to Passport America)
# nights at last park:
2
Travel time:
8.5 hours
Miles:
242
Gas:
42 gallons @ $1.739 or $71 avg mpg: 7.5
Weather:
Clear and beautiful, hot during the day - a perfect 70 degrees now in the evening.
As pleasantly surprised and thrilled as we were with our last park, we're disappointed with the current one. The listing in Trailer Life says they have a pool and a hot tub. Not only do we see no pool or hot tub (I think they're referring to the Swamp Fox Motel that is nearby) we don't even see showers or laundry here. Oh well, we're only staying here one night.
posted by Chris at 5/06/2004 09:56:00 PM
Links to this post:
0 Comments:
---