Saturday, May 01, 2004
We're in Georgia
So long Florida. Jim and I have both called South Florida home since the early 80s. I also lived in Fort Lauderdale from '53 to '57 and from '66 to '71 and Jim lived in Key West and Jacksonville when his Dad was in the navy ('56 to '62). South Florida will probably always be 'Home', no matter where we are. We don't have specific plans right now, but I expect we won't be back 'Home' for at least 6 months, most likely one year.
Seeing the 'Welcome to Georgia' sign was the signal that we have truly begun our life on the road: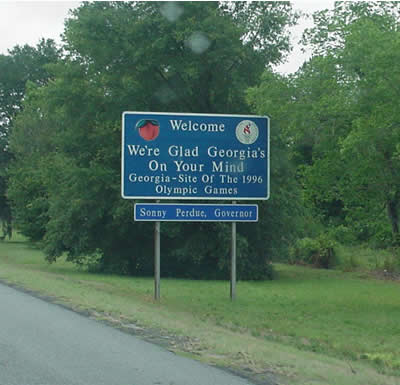 We dutifully followed Lynne and John's advice to always stop at the tourist information center and find out what's going on in this new state. We discovered that the
'Vidalia Onion Festival'
is happening in Vidalia next week. We looked at the map and it looks roughly on our route, so, here we go. Did you know that the Vidalia Onion is Georgia's 'State Vegetable'?
We are currently in Tifton, GA. Why? Well, because there is an RV park here with Coach Connect's Wi-Fi service. Although we are representing
Coach Connect
, the only installations we've seen is
Paradise Island
in Fort Lauderdale and
River Bend
in Alma, FL. So, we thought we'd take this opportunity to check it out, introduce ourselves and see if we can offer any services. It's a pretty little park. Here's our site: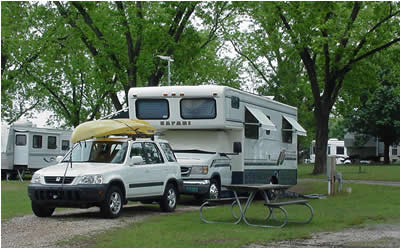 You might notice that the Datastorm satellite dish is not up. There's 2 reasons for that. First, of course, is that we don't need it because they have the Coach Connect Wi-Fi service here and it is really good. As long as you have a wireless adapter on your computer, you simply turn it on, and you're on the Internet! Enter your Coach Connect username and password, and you can browse anywhere you want at very good broadband speed. The manager here told us that they had a guest who told them he has stayed in several parks with Wi-Fi but this was the first one from Coach Connect and it was hands-down the best. Very nice to hear! The second reason that the Datastorm is not up is the trees. We did try to raise the dish and lock on to satellite just to see if it would work thru these trees - they seemed pretty thin to us - but, nope, it didn't work. EVERY park should have Wi-Fi!!!
Another thing that every park should have is a jacuzzi! We're in heaven when we find that! Here's Amy's jacuzzi: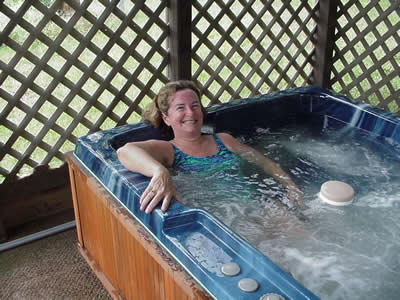 Facts and Stats:
Current Park: Amy's South Georgia RV Park, 229-386-8441 (no web site, hmmm, we should do something about that :-)
Site Cost per night: $16 (plus tax)
Nites at last Park: 2
Travel time: 2 hours
Miles from last park: 93
Miles since we left Fort Lauderdale: 667
Days since we left Fort Lauderdale: 14
$ spent on gas since we left Fort Lauderdale: $110.40
posted by Chris at 5/01/2004 11:51:00 AM
---