Sunday, March 20, 2005
Letting Go
We've been in Arizona for almost 3 months! 6 weeks of that was in Quartzsite at Dick and Frankie's lot. We really like Arizona. And we just loved staying with Dick and Frankie. The best part was in December when Lynne and John were there too. But, as we stayed on quite a while after Lynne and John were gone - Dick and Frankie changed from being 'Lynne's folks' to being our friends.
Thank you!
Thank you!
Thank you!
It was great! Now we're on the road again heading towards Nevada. This lifestyle gives you a lot of practice with
'Letting Go'
. It may sound a little painful ... lots of goodbyes ... but as my favorite philosopher says "By letting go, it all gets done. The world is won by those who let it go!"
(Lao Tzu)
And then there's the deadlines. The 'cabin' at Quartzsite is the perfect place to get all those motorhome projects done. Well, the day before we're scheduled to leave, there were still projects unfinished. Nothing like a deadline to get things done! We really like a shiny, waxed motorhome. I worked all day and got it polished up. Jim had too many WiFi tech support calls to handle, so I actually did the whole thing myself! I'm so proud. Just look at that shine! It's like a mirror.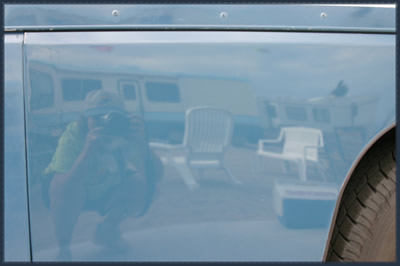 And then there's all the other cleaning projects. How DO you get those little mini-blinds clean anyway. I spray and wipe, and spray and wipe again. And I know I'm just pushing the dirt around. Well! Frankie knows all. You take the blinds out - they're held on by two brackets with little clips that swing out and let it go. I couldn't figure it out, but Jim got it done. Then you take the blinds to the shower and spray, scrub and rinse. Hang them on the line in this Arizona dry heat and they're done in 15 minutes.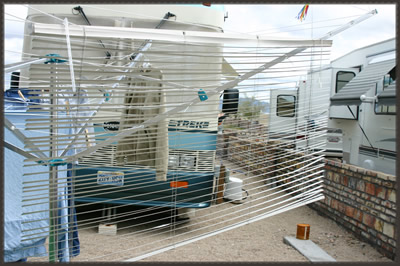 Clean blinds. Really clean! Cool!
Jim finished caulking every seam up on the roof. That's a constant maintenance project. We are ready. With our 6 new Toyo tires, the new front and rear swaybars, the clean, shiny and caulked coach and all the newly organized cupboards and work areas - it's like we have a brand new rig to continue our journey! And, the crowning touch ...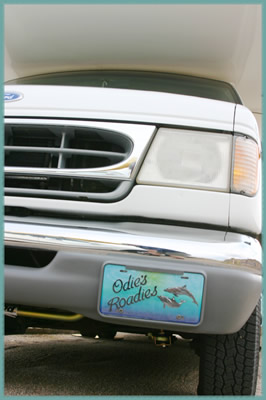 Jim got our 'Odie's Roadies' license plate put back together and attached to the bumper! This is the plate that Lynne and John gave us and that got damaged in our little fender bender in Wyoming last summer. We're truly ready to go now. Here's our campsite - we just pulled off the road a little north of Lake Havasu City and stayed on BLM land.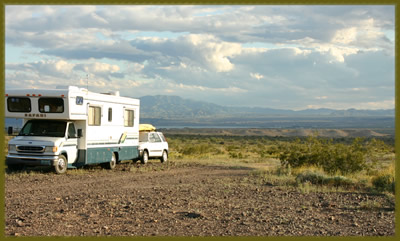 posted by Chris at 3/20/2005 10:48:00 AM
Links to this post:
0 Comments:
---