Wednesday, July 06, 2005
Fireworks by Kayak
THANK YOU Sean! Thank you for having a home right on the beach and inviting us to join your July 4th party so we could paddle our kayaks to Deerfield Pier and watch the show.
I don't have any photos because I figured that beach sand and sea water probably would not be good for my camera. But, take my word for it, paddling out into the ocean on a warm Florida night is a sensual experience. This is the third time we've done this on the fourth of July and it is so heartwarming to see those fabulous fireworks that they set off for our anniversary!
Here's a photo that Lynne took of us. 7 years ago today we got married.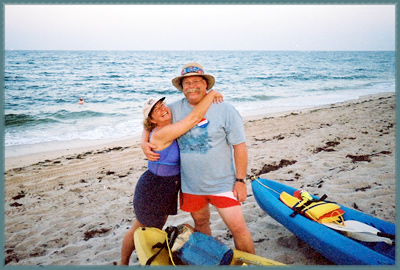 My Mom paddled with us as well as Lynne and John. We even saw dolphin surfacing less than 100 yards away! We had the best viewing position possible. The crowds on the beach were to our left, the dozens of party boats were to our right, and the fireworks were being set off from the pier in front of us, vibrating our innards when they exploded directly overhead! The wind was blowing a little, which meant that we got some real exercise paddling back to our starting point.
Cool.
Doubly cool that we get to share this with Mom and our RVing friends!
Lynne and John
are parked right next door. We get to have dinner together with no more preparation than us walking next door with our plates!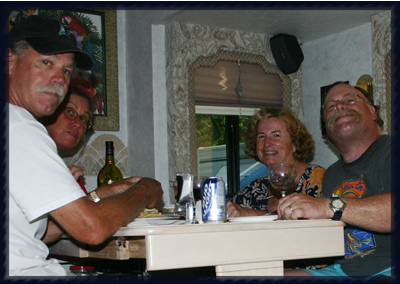 posted by Chris at 7/06/2005 08:59:00 PM
Links to this post:
1 Comments:
Congratulations may you have many many more years togheter.
---