Thursday, April 06, 2006
New Orleans
We planned to visit New Orleans today. I've never been there - and it's been a long time for Jim. No plans to stay long, just wanted to see what it looks like 7 months after hurricane Katrina. We avoided the area completely
last summer
when we went thru right after Katrina.
We started at Lake Charles in a Jellystone park.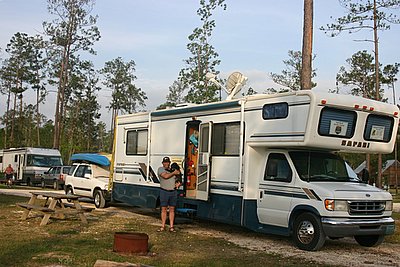 Highway I-10 wasn't as bad as we were expecting. Not the greatest road, but we didn't see any obvious hurricane damage.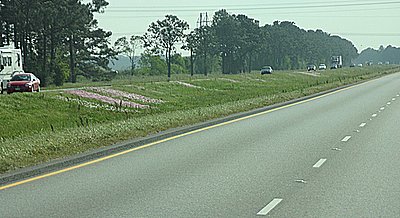 Here's Baton Rouge.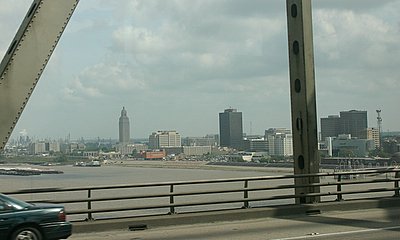 There's a large stretch of I-10 that goes thru swampland. Pretty interesting road.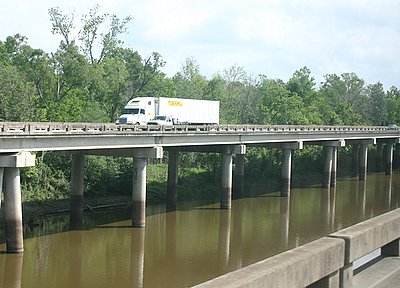 As we got closer to New Orleans, I expected to see more evidence of hurricane with downed trees. I remember driving thru South Miami a full year after hurricane Andrew and seeing fields of what looked like fallen matchsticks - what once were trees.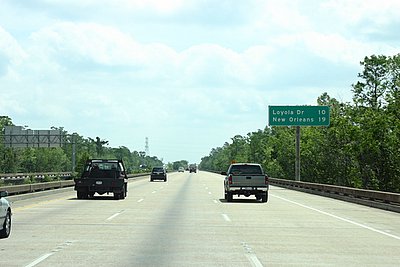 Maybe the devastation isn't that widespread.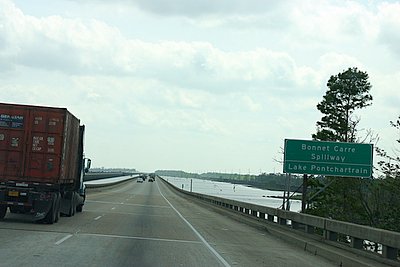 Then again, I could be wrong. This view was just after the Lake Pontchartrain sign.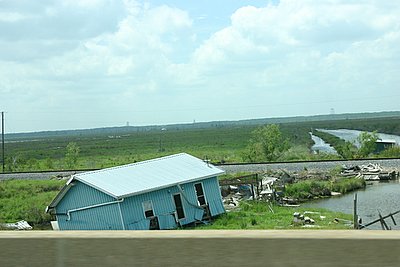 They sure want you to believe that all is well.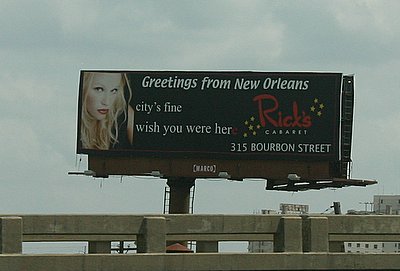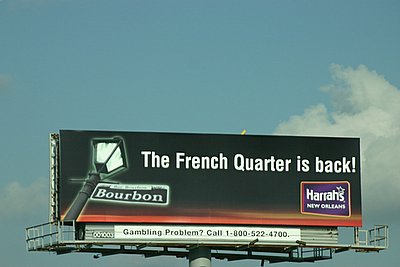 I don't think you can see them in this photo, but there are workers on the roof of the Superdome - making repairs.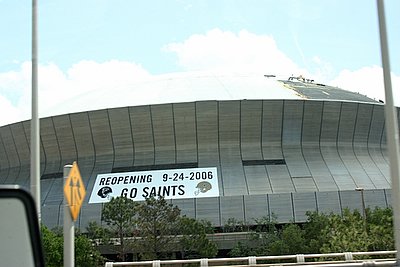 Here's the high-rise hotel right next to the Superdome with so many windows still blown out.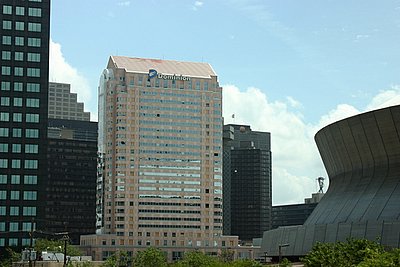 We took the exit to the French Quarter, hoping to find some place to park the rig and go walking, get some lunch, and sightsee. Well, we never found a place to park, so all you get is some photos taken thru the window. Lots of trees still intact, and the French Quarter was busy - restaurants open, beautiful weather, lots of people out and about. I even took a moment to 'View Available Wireless Networks' on the computer because we had heard that New Orleans had a city-wide WiFi network. Sure enough, one of the networks was named 'City of New Orleans'. It was only one of many, however - at least 50 wireless networks showed up on my screen when we were in the heart of the French quarter. Within a few blocks they were all gone.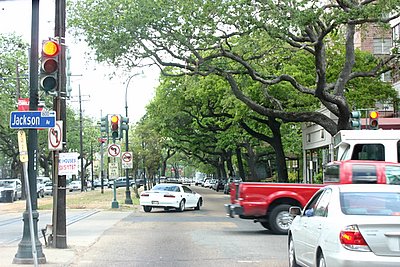 But you didn't have to look too hard to see evidence of destruction and renovation. The generic, white, FEMA trailers are everywhere. That's where people are living while their homes are gutted. Dumpsters overflowing.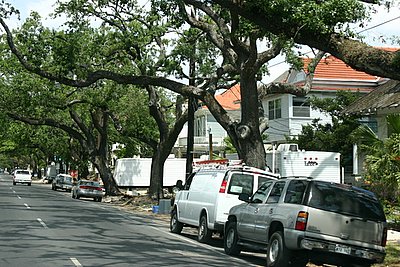 And, just around the corner.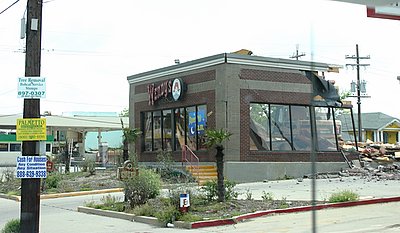 This was not a place for a 30 ft motorhome, towing a car, to be driving. So, we got back on the freeway. From there, you could see whole neighborhoods of FEMA trailers.
By the time we reached the exit where there were supposed to be a couple of RV parks, we had lost any desire to stick around. So, we just kept driving.
Oh my God. East New Orleans. Here are the matchsticks.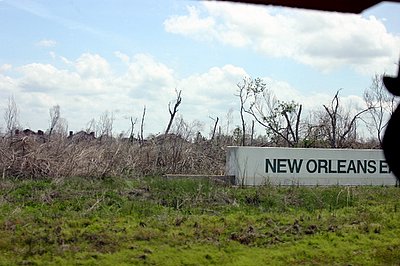 And abandoned neighborhoods.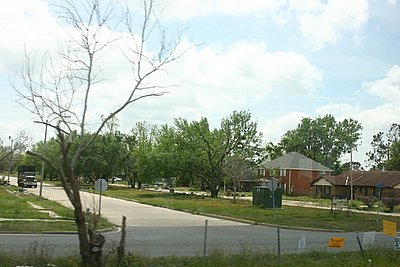 Even abandoned shopping centers.
We just kept driving. Soon, we were in Mississippi. We figured we could just park in a casino parking lot for the night, so we stopped at the Welcome Center to ask for advice on which casinos (GulfPort or Biloxi) were open and had parking. They said there were two possibilities in Biloxi - so we decided to take the coastal road - hwy 90 - the 'scenic' route.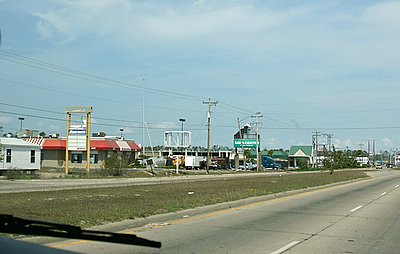 I think the image that sticks in my head the strongest is the piles of trash. I didn't even click my camera, I was so overwhelmed. Outside of many establishments there were simply piles of what had obviously been the contents of the buildings. The piles were 10 feet high and more. I thought about how those piles were people's belongings, business's appliances. And, they were still in piles 7 months after the hurricane.
Somehow, in all the billboards, road signs and Welcome Center staff, there had been no mention that the causeway on Highway 90 was out ...
So, we had to backtrack a little to get to I-10 again.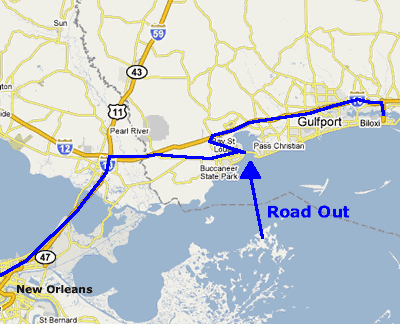 I wonder where Dorothy is?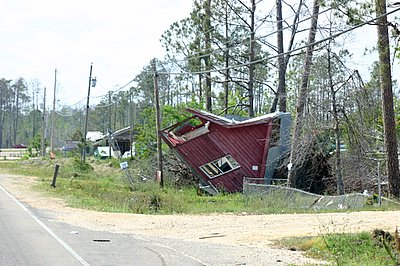 posted by Chris at 4/06/2006 09:18:00 PM
Links to this post:
3 Comments:
I have been spending many months in the Gulf area. My question to fulltimers is this, why not come to the Gulf area and hook up with any of the volunteer groups and give your time? Being retired and able is a blessing and these folks need your help. There is so many different things people can do. It is not all as intense as I am involved in. Right now we are working up to 12 hours per day and seven days a week gutting and rebuilding homes. There are other things to do. And they will allow you to park your camper sometimes at no cost.Come on down
To whoever posted the comment above ... I know of many fulltimers who would like to help, but don't know how. Perhaps you could post some links with contact information? The best place to post that would be on RV.net fulltimers forum.
Chris,
It is not that hard to find out. Habitat for Humanity has places to go to. All I did was get on the www and I found untold number of places looking for volunteers. I just see all of these folks enjoying them selves going around this country and I just wondered why we can not get more to come on down I live in my TC and the places I have worked have help me get water and ac and even get a potty truck to empty tanks.
You can go to craigs list and there are things posted there. I have posted on other sites trying to get fulltimers to come and be a part of a very rewarding work. I usually get tacky pm's saying that they gave at "the office".We have the time and even more, we have the oppurtunity.To give of yourself is far more rewarding than money. If someone is inhealthy, there are groups which can use you and you will do things which will not hurt your health.
Thanks for allowing me to vent
Ed
Tenn
---