Sunday, May 07, 2006
Fort Lauderdale: McDonald's Air and Sea Show
The
Air and Sea Show
is an annual event in Fort Lauderdale and we've attended many times over the years. They block off a section of the beach road (A1A) for a mile or so, and hundreds of thousands of people flock to the beach. We did that one year. We've also watched it from a friend's condo on the beach, and from a boat. Our favorite is from a boat - so we were just thrilled when we got an invitation to join Ronnie and Nils on their boat along with my mom and some other friends.
Here we are loading up at their dock: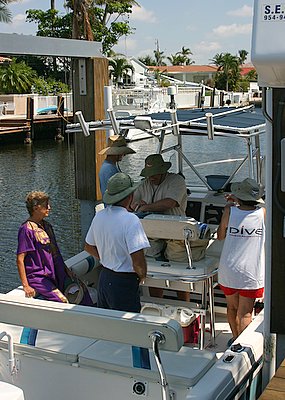 Jim says, "Thank you Ronnie!"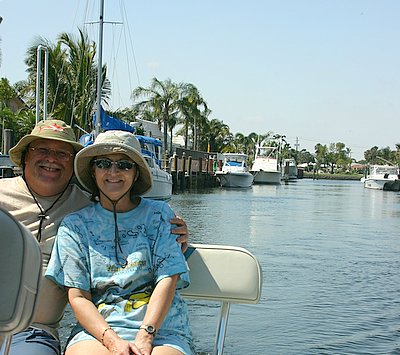 And, we head out the cut from the Intracoastal to the ocean at Hillsboro Inlet.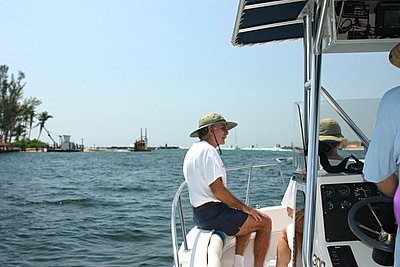 We get into place with thousands of other boats off Fort Lauderdale beach, in time to see the flyover by American Airlines. The big jet is a 767 and the little one is a DC3 - pointing out the growth of the airlines!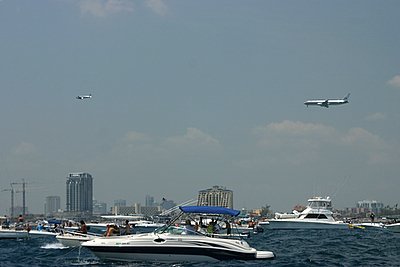 The great majority of the show is military. Here's a demonstration of refueling 2 helicopters in flight.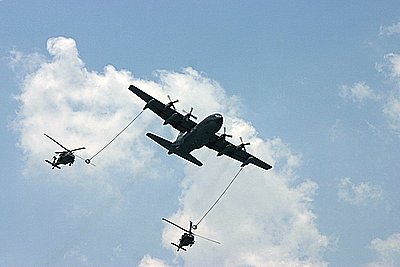 The main reason for the show is a display of air power. The 'Sea' in Air and Sea is supposed to mean the hovercraft and the demonstrations of sea rescues by helicopter and a few 'go-fast' boats. But, the 'Sea' show that we got was watching thousands of boats trying to anchor in such close proximity to one another. And, many of the boat captains simply did not have the required skills! This poor boat was the victim of 2 incidents. The first one was when another boat was getting very close to us, then, when they hit the throttle to move away from us, they flew forward and spun around, slamming their back end into the blue boat. The second is when another boat came so close that their propeller got tangled in the blue boat's anchor line. They didn't even realize it and the hapless blue boat was getting an unwanted tow!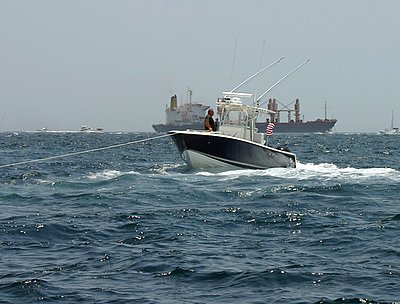 I said, 'maybe we should call the Coast Guard and ask them to assist'. Oh, but wait, the Coast Guard is already pretty busy with this boat over here that's sinking!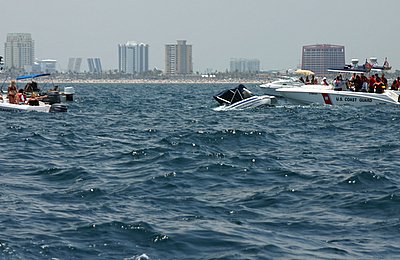 Entangled anchor lines seemed to be the most common problem of the day. At one point a boat was actually 'trawling for anchors' ... he left his anchor down as he decided to move to a more desirable spot. Well, you can imagine in this crowd he ended up hooking on to several other boats' anchor lines in the process.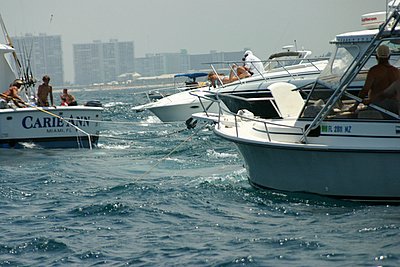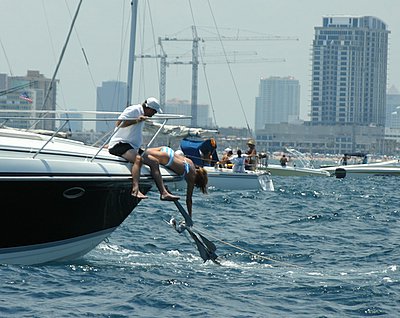 We seemed to be one of the few in our area that avoided the anchor-dragger. As it turned out, he just cleared our area for us! Let's go for a swim!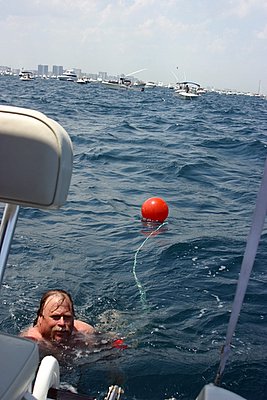 Back to the airshow. These are the Canadian Snowbirds.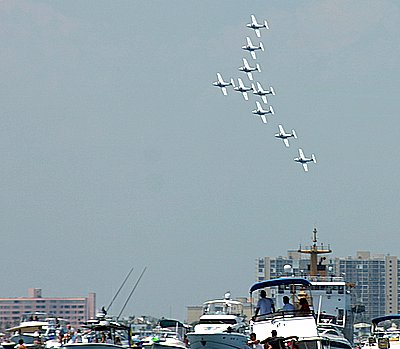 And, one of my favorites, the stealth bomber.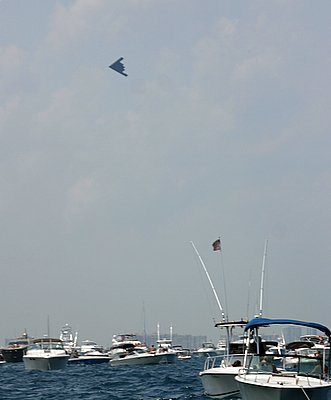 It's stealth because it's so thin that, when it's coming straight at you, you can't even see it. It's also very quiet.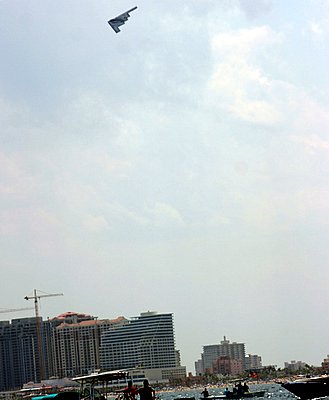 The fighter jets, on the other hand, are so loud they hurt your ears when they go right overhead. And, they did!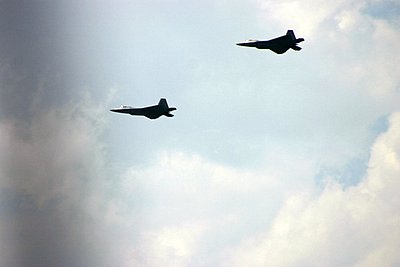 You might need to look closely at this next one .. they just passed each other going in opposite directions. At 550mph each (maybe more) - that was a pretty heart-stopping maneuver.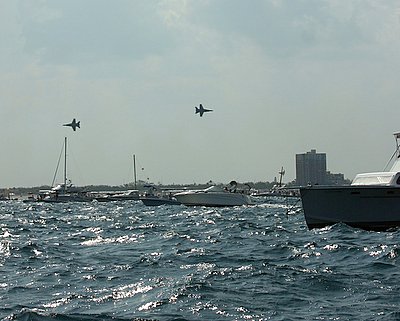 And these did the same thing, only upside down.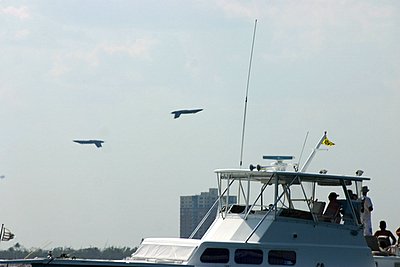 The grand finale was the Blue Angels.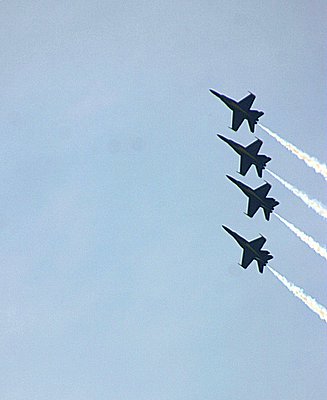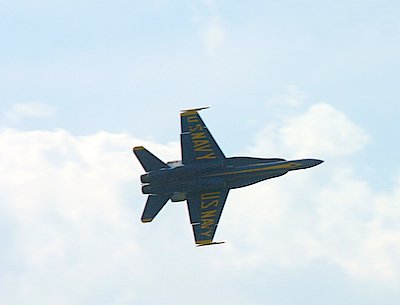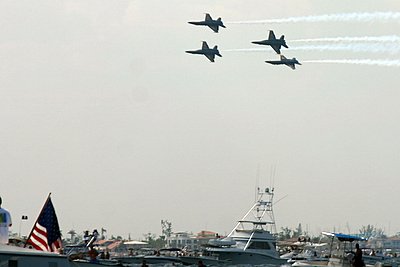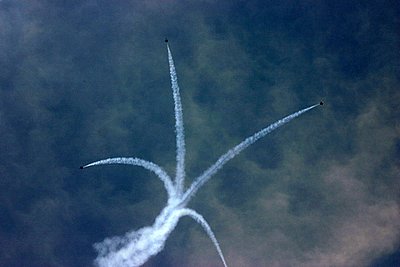 Then it was back thru the inlet .. with everyone else ... to go home.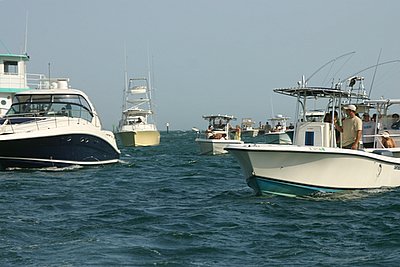 posted by Chris at 5/07/2006 09:57:00 AM
Links to this post:
3 Comments:
Your site is on top of my favourites - Great work I like it.
»
I say briefly: Best! Useful information. Good job guys.
»
I find some information
here.
---